Project Summary
Project Name:
California High Speed Rail - CP 2-3
Project Location:
Fresno to Bakersfield Corridor - California
Engineering Consultant:
Jacobs Engineering
Structure Type:
Single Span and Multispan - CastinPlace Concrete Box Girder Bridge
The California High Speed Rail is the first true high speed rail being constructed in the United States. The electrified train, powered by overhead catenary, will operate at 220-mph (250-mph design speed). The CAHSR CP 2-3 provides 65-miles of infrastructure improvements
required for the future High Speed Rail (HSR). CP 2-3 improvements include o
ver 12 million yards of new HSR embankment, 18 HSR structures for the High Speed Rail, and 31 new roadway grade separations. Jacobs is responsible for the entire infrastructure design, including the track alignment and profile, hydraulic analysis, drainage design, relocation of existing roadways, retaining wall design, and design of all structures.
---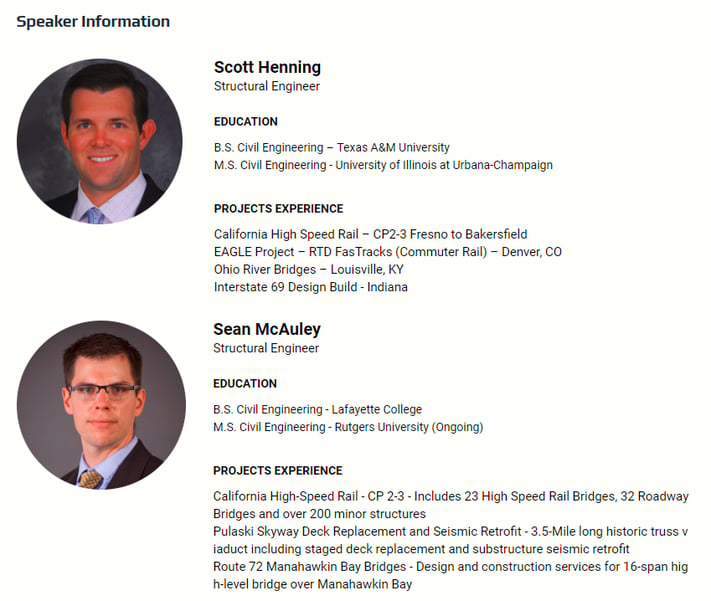 ---
Highlights of the Presentation
- Overview of California High-Speed Rail CP 2&3 Project

- Required studies for rail-structure analysis
Structure Frequency / Rail-Structure Interaction / Dynamic Analysis, etc.

- Rail-Structure Interaction
Purpose / Criteria / Properties and analysis cases

- Case Study
Model Creation and Construction Stage Analysis
Geometry-Nonlinear Analysis
Nonlinear Time History Analysis
Results and Conclusions
Do you want to try it yourself?
Don't you worry! We've got you a trial license.
Or get a license for $600/month!
---
Speaker : Scott Henning,Sean McAuley

Category : Bridge

Software : midas Civil

Date : 2017-08-09
---