Video Clip
Seismic Analysis Overview
- Seismic Design Process 0:00 - 1:43
- Basic Requirements 1:43 - 2:35
- Compliance Criteria 2:35 - 3:35
- Earthquake Resisting Systems 3:35 - 6:12
- Type of Seismic Analysis Method 6:12 - 6:53
- AASHTO LRFD 6:53 - 16:54
Response Spectrum 16:54 - 20:39
Modal Analysis 20:39 - 29:17
Pushover Analysis Method 29:17 - 47:29
Time History Analysis 47:29 - 1:02
Purpose of the Training
Seismic analysis and design remains a topic of slight controversy among engineers today. Delivering for the rigorous requirements for seismic analysis stipulated by most codes is usually time consuming and adds to overall project costs. Consequently many engineers in non-seismic zones simply prefer to apply nominal design provisions without much calculation. But with the advent of modern codes as well as in the wake of several recent seismic catastrophes, engineers are reconsidering their perspective on seismic resistance for structures. This training session will aim to highlight the basic requirement of seismic analysis and demonstrate the various methods and analysis types available for Seismic analysis of bridge structures, simultaneously demonstrating the capabilities of midas Civil in handling those seismic study applications. The trainer will demonstrate step-by-step process of the seismic analysis set up and result review.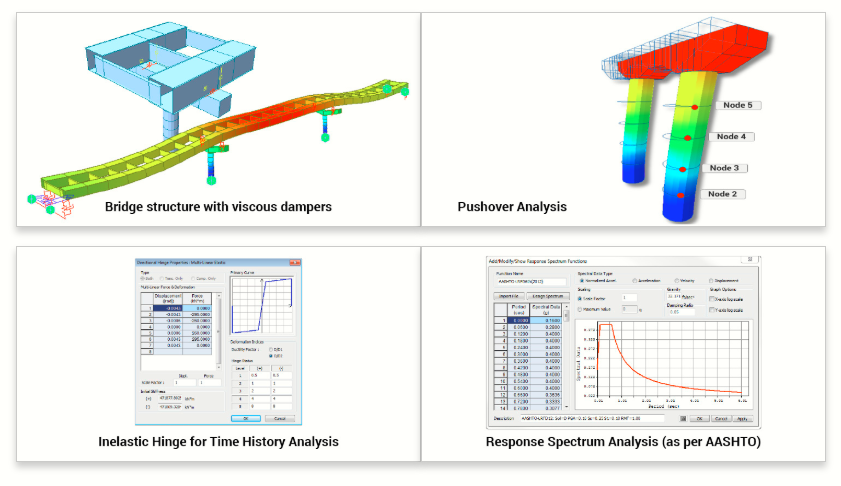 Key Feature
Setting up & reviewing results from
- Eigenvalue analysis & Response Spectrum Analysis
- Pushover Analysis
- Time History Analysis
Different options and methods available in the program features are explained for each seismic analysis type
Benefit
Engineers in the states that require any seismic study can benefit from this training since midas Civil can handle every type of seismic study and analysis. midas Civil is basically an all-in-one tool that can complete the entire scope of bridge engineering work including the seismic studies.
Attendees will receive 1-HR PDH credit via e-mailed by November 13, 2015. In order to qualify for the PDH credit, please register by clicking here.
---
Speaker : Angela Kim

Category : Bridge

Software : midas Civil

Date : 2015-11-10
---