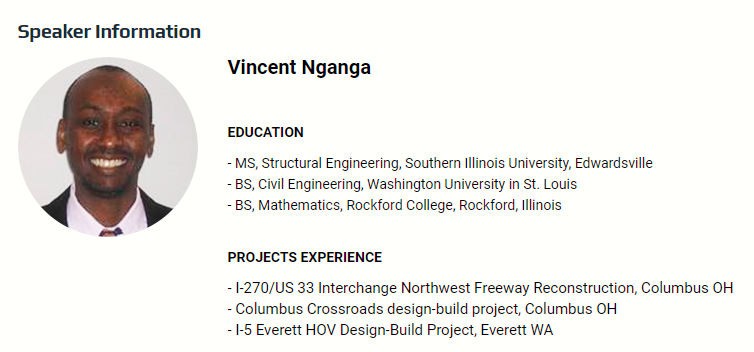 Purpose of the Webinar
Seismic Analysis, Demand and Capacity Evaluation of Highway Bridges

This webinar discussed the methods used for seismic analysis, demand and capacity evaluation using a three dimensional mode. The model incorporated soil-structure interaction and generation of moment-curvature curve. Non-linear material properties and plastic hinge properties of members were demonstrated and discussed. The capacity spectrum method used to efficiently evaluate non-linear seismic response and performance.
Presentation Slides

Featured Topics
- 3D Finite Element Modeling
- Demand Evaluation and Capacity Determination
- Pushover analysis
- Soil structure interaction around the abutment and foundations

Who Attended
Structural engineers/Bridge engineers working on bridge design, seismic evaluation, and other complex bridge analysis.

Benefits of this webinar
1. Modeling methods used for a seismic analysis and design
2. Modeling methods used for soil-structure Interaction at supports
3. Use of the midas Civil Gravity load effects
4. Generation of moment-curvature curves

All attendees received a certificate for 1 AIA approved Professional Development Hour.
---
Speaker : Vincent Nganga, PE

Category : Bridge

Software : midas Civil

Date : 2015-06-17
---