Work SMARTer not harder
Advanced functions that create new standards of efficiency
SoiWorks has several SMART features that are designed to help you perform your geotechnical modeling and analysis with greater ease, efficiency and confidence than ever before.
Each feature has been designed to overcome common time-consuming inefficiencies of geotechnical design.
The SoilWorks modeling interface consists of CAD-based commands that are based on standard CAD modeling functions that are most widely used by engineers.
This gives you the option of creating your drawings directly in the program itself without having to learn a new and complex interface.
These CAD-based commands will ensure that your proficiency with AutoCAD will only serve to enhance your user experience with SoilWorks.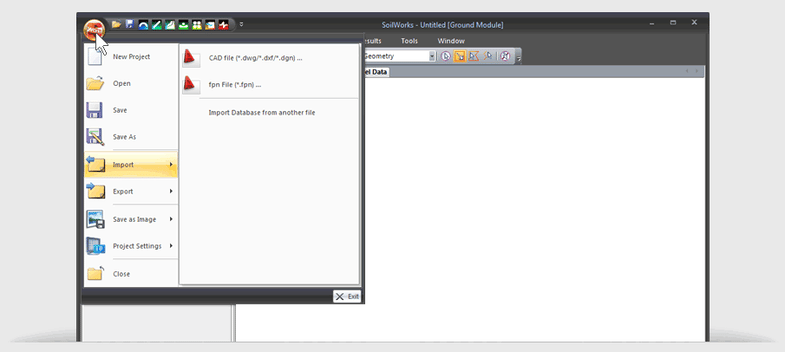 Surfaces, mesh sets, and boundary conditions can be automatically assigned to your project drawing.
These capabilities will save considerable amounts of time and effort during your modeling process, especially for projects with complex geometry.
An extensive constitutive model database that contains a variety of widely used models including Elastic models for underground structure design,
Mohr-Coulomb models for the defining the shear stresses of soils and rocks, Tresca/von Mises models for non-cohesive materials, Hoek-Brown model for rock failure parameters,
and Drucker-Prager models to simulate the plastic deformation of soils. SoilWorks also features an extensive ground material property database that contains material properties for a variety of rock
and soil types.These databases eliminate the need to search through any outside sources for modeling and material parameters.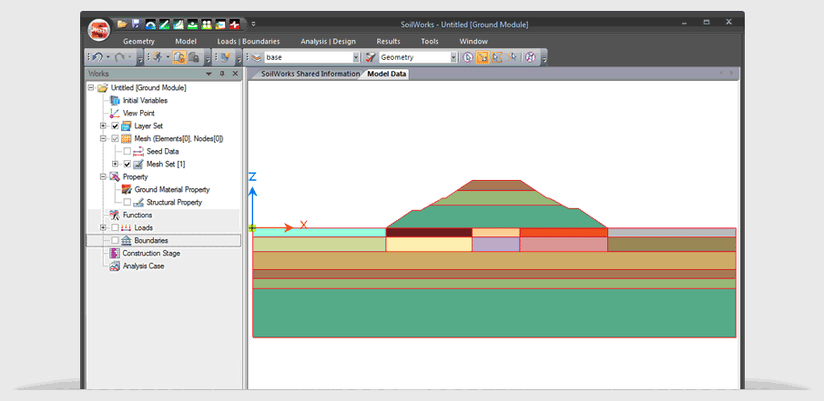 The SoilWorks modules are all linked on a universal platform that allows for the fluid transfer of data between separate model files.
Models, assigned properties, and results can be seamlessly transferred between each file.
This unique capability eliminates inefficiencies that come with performing coupled analysis on two completely separate software packages.
So now you will be able to perform multiple analysis types on the same project without having to repetitively perform detailed data entry and remodeling analysis case.