Need help with routine and / or complex bridge load rating?
Michael Baker has helped owners nationwide develop load rating and overload permit evaluation tools for hundreds of complex bridges as well, just a few of which are shown in this graphic. Using no more than a spreadsheet on your end, but with powerful 3D FEA information in the background, overload permits for suspension, cable stay, arch, truss, rigid frame and other complex bridge types can be processed in less than a minute for many complex structures.
Load Rating Process

Bridge Types Covered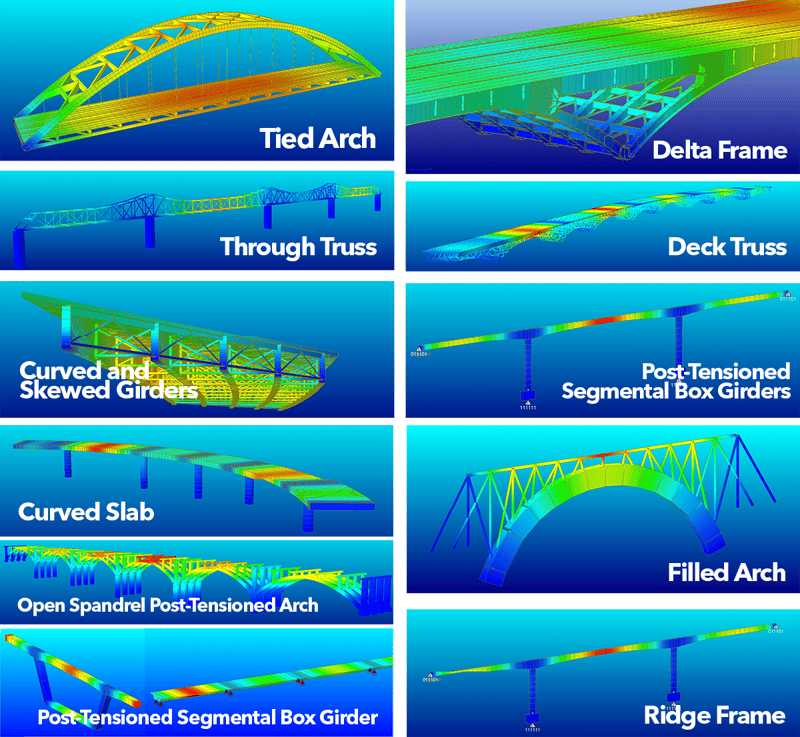 Special Notes
This procedure is applicable to any structure type
Users can define and load rate any vehicle of a standard width
Influence line, capacity, and load data can be incorporated into a statewide automated permit approval system
How to handle special cases - severe skew with support release, LFR rating, etc.
About the Speakers
FRANCESCO RUSSO

VP and Technical Director

DANIEL BAXTER

Bridge Department Manager
Francesco and Daniel specialize in the analysis and design of complex bridges such as prestressed and post-tensioned concrete bridges, arch bridges, steel truss bridges, and curved steel girder bridges. Beyond serving their clients successfully, they are more than happy to share their experiences and works with the bridge engineering community by speaking at conferences, universities, webinars, and any possible engineering discussions.