Presentation Overview
What's your reason to use separate programs for seismic analysis and design? For most other engineers in the West Coast, it is because of the lack of capabilities of the program to handle everything in one platform. Design programs are convenient but lack seismic capabilities; while analysis programs
can handle seismic analysis but lack design checking features and efficient modeling process, especially for various sections and tendons.

Are you dreaming of a program that has extensive capabilities and suggests a variety of approaches of modeling & reviewing, so you can finish your work conveniently by modeling everything in one including soil-structure interaction? Check this webinar to see how midas Civil could make your dream come true.
Key Points

Seismic analysis and design in one platform

Various modeling approaches for tendons, grillage, and seismic

Modeling and designing the whole structure including Soil Structure Interaction
Q & A
Can the program also do the transverse top deck design?
> Yes, the program supports transverse top deck design.


For RSA, when a bridge is defined through the wizard is the mass automatically taken based on the materials and sections input or do we have to assign mass separate? If a new load is added after the wizard is used will the software include the mass or load? Do the loads or items have to be assigned to a particular load case to be accounted for in the RSA?

> User doesn't need to assign the loads manually.



Please explain how the column is linked to the footing using linkage element.

> Is it column linked to only on node on the pile cap or the load can be spread out to a nodal group when the column size is big. to avoid localized stress on cap



Can bent foundation piles be modeled in this comprehensive model to check reaction loads to each pile?

> Yes, the bent piles can be modeled in midas civil to check the pile load.



For prestress P jack does the program design Pjack? What about shear stirrups and additional mild steel for Ultimate Moment?

> No, the program does not recommend the required value of Pjack or reinforcement. User has to input the Pjack and reinforcement, and program can verify the input.


Click Q&A words below to review more answers to the questions asked during the webinar.
Presentation Slides


---
Speaker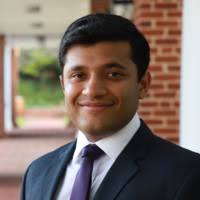 Kapil Dev Bansal

MIDASoft, Inc
Kapil has various experience of establishing operations in North America(USA and Canada)and SE Asia (Singapore, Malaysia, Hong Kong, and Oceania) with focus on the bridge engineering software consultations.
---
Speaker : Kapil Dev Bansal

Category : Bridge

Software : midas Civil

Date : 2019-05-23
---